An effective and clean process
Electrocoagulation

water treatment

Innovative methods are continuously required in water purification of a wide range of wastewater pollutants especially in case of difficult approach. Electrocoagulation system optimised by INTECNA, provides a relatively compact and robust wastewater treatment plant alternative in which special alloy metal anodes initiate electrochemical reactions that provide active metal cations for coagulation and flocculation. INTECNA has designed, developed and patented specific electrocoagulation plant for wastewater under the CELDAR ® brand.

In the achieved patent No. 102018000009628, direct current is passed through plates in a special aluminium alloy which prevents polarization. Unwanted contaminants are removed by adsorption or chemical reaction and precipitation or by causing the aggregation of colloidal materials.

For subsequent sedimentation and filtration, the pollutants are totally removed. Compared to conventional wastewater treatment (chemical-physical) , Electrocoagulation system has aspects now considered as strengths, especially for a regulatory and environmental sensitivity that has consolidated. We will mention the main ones.

1) ANIONS (chlorides or sulphates) are not added to the flocculation 2) In Electrocoagulation, the sludge production is lower and a complete water recycling 3) In Electrocoagulation system there are no empty containers to be disposed of 4) In Electrocoagulation, there are no logistic costs for transporting chemicals containing water 5) Electrocoagulation process is carried out with an energy consumption very low

The technology is therefore completely ECO-SUSTAINABLE, allows a zero liquid discharge treatment. So, Electrocoagulation plant represent a really green technology provides all the elements that go in that direction.

Electrocoagulation was first proposed by Vik , E. A. , Carlson , D. A. , Eikun , A. S. and Gjessing , E. T. 1984. (Reference: Electrocoagulation of potable water. Water Res., 18:1355–1360)

The Electrocoagulation process involves the dissolution of metal cations from the reactor anode with the simultaneous formation of hydroxyl ions and hydrogen gas at the cathode:

Me ----------- Me+ + e- 2H2O + e- -------- 2OH- + H2

A current flows through a metal electrode, oxidising the metal (M) to its cation (M+) in form of hydroxide (ANODE). Simultaneously (CATHODE), water is reduced to hydrogen gas and the hydroxyl ion (OH−). Electrocoagulation thus introduces metal cations in situ, using anodes. INTECNA developed own electrodes alloy composition to prevent electrodes polarization

The metal hydroxide usually has high adsorption properties, thus bonding to the pollutant obtains an excellent pollutant removal.

Moreover, depending on reaction conditions, electrode type and oxygen concentration, oxidation or reduction of the pollutants to less toxic species may occur as well as removal by electroflotation and adhesion to rising gas bubbles.

Electrocoagulation is a really water purifier plant and advantages include environmental compatibility, versatility, energy efficiency, safety, selectivity, amenability to automation and cost effectiveness.

In addition: compact and simple reactors due to rapid reactions instead of using chemicals (coagulants, oxidants) and microorganisms; and the wastewater treatment plant employ only electrons to facilitate water treatment. The formed aluminium and iron hydroxide flocs are relatively dense and easier to dewater, having a low sludge volume index (SVI). Hence, sludge management through Electrocoagulation becomes more attractive than via coagulation and precipitation methods with conventional coagulants and hydrated lime.
ELETROCOAGULATION PROCESS CRITICAL PARAMETERS
Current and current density
Current and current density are of the most critical operation parameters in Electrocoagulation, having an integral effect on process efficiency The amount of metal dissolved or deposited is directly proportional to the amount of electricity passed through the electrolytic solution.

The quantity of dissolved Metal (for example Aluminium), depends on the quantity of electricity passing through the water, and can be found by Faraday's Law.

Therefore
m = 1/96500 × A/V × It
Where:
m = mass of dissolved Metal
V = valence of the metal (in case of aluminium Al +++ = 3).
A = atomic mass of aluminium (27).
I = current in amperes.
t = time in seconds.
The current referred to surface unit will define the current density
Electrolyte type and concentration
When the wastewater is slightly conductive, sodium chloride is usually employed to increase the conductivity of the water or wastewater to be treated. The addition of NaCl can also reduce the electrical energy consumption of electrocoagulation, as it increases the conductivity of the wastewater. On the other hand, during electrocoagulation in the presence of NaCl, formation of hypochlorite (OCl−) and hypochlorous acid (HOCl) is possible so that besides serving as an electrolyte, NaCl may also provide an additional, in situ-formed oxidizing agent.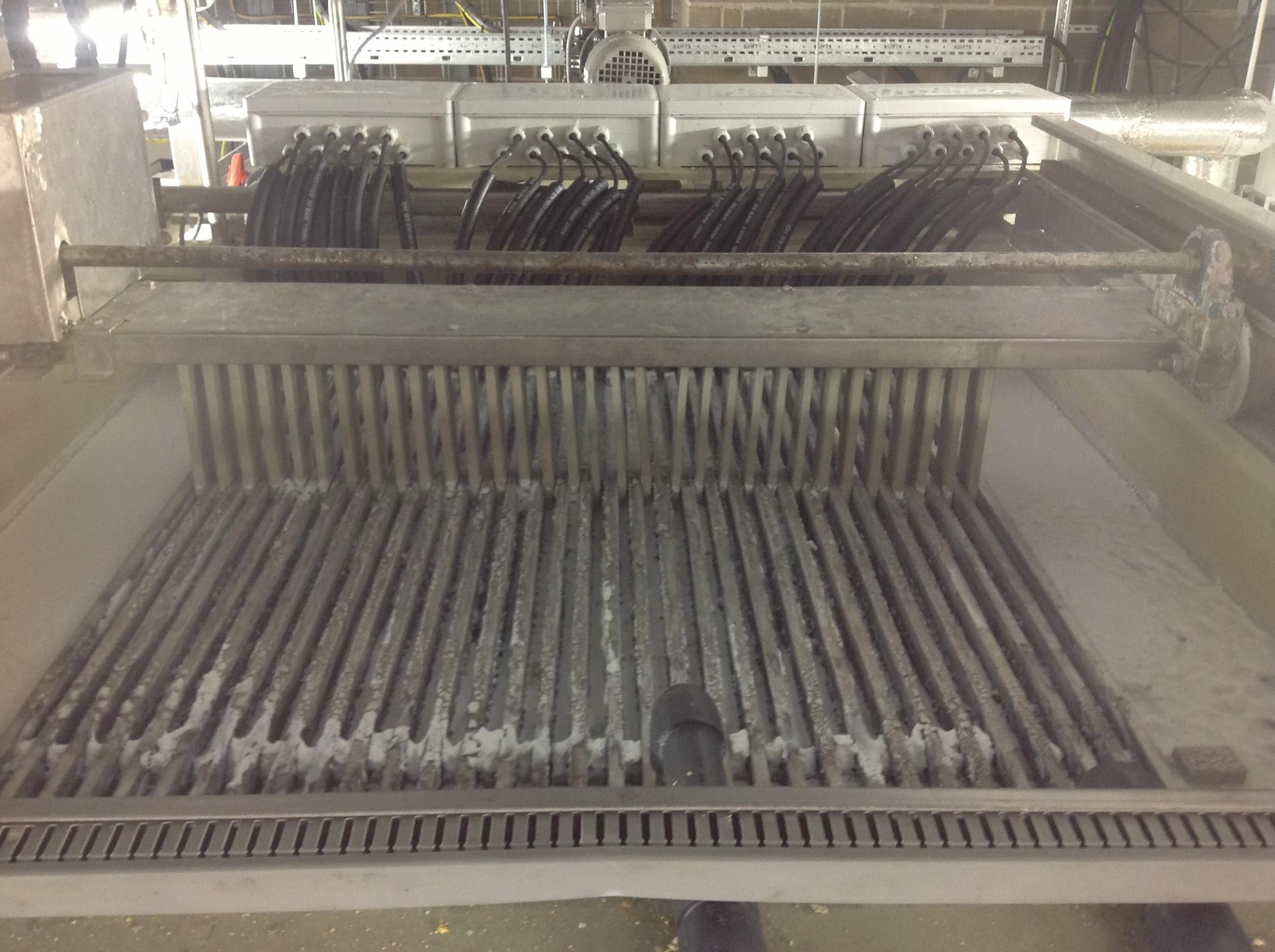 APPLICATION SECTORS
Sectors where electrocoagulation is applied (and related issues of these wastewater) are:
Electrolyte type and concentration
TEXTILE INDUSTRY (COD/BOD/COLOR REMOVAL)
LEATHER INDUSTRY (COD/BOD/SULPHIDES/CHROMIUM REMOVAL)
PULP AND PAPER INDUSTRY /COD/BOD/COLOR REMOVAL)
OLIVE OIL MILL WASTEWATER (COD/BOD POLYPHENOLES REMOVAL)
METAL SURFACE TREATMENT (HEAVY METALS/POSPHORUS REMOVAL)
LEACHATE IN LANDFILL TREATMENT (COD/BOD /COLOR REMOVAL)
OIL EMULSION BREAKING AND RECOVERY (OIL REMOVAL)
FLEXOGRAPHIC INDUSTRY (PHOTOPOLYMER REMOVAL)
FLUORIDES REMOVAL in Electronic, Glass and Aluminium Industry


It is possible to examine cases histories in industrial uses, where CELDAR Electrocoagulation plant has been applied.
Annexed photos are related to some model of INTECNA electrocoagulation plant manufacturing.
BASIC UNIT PLANT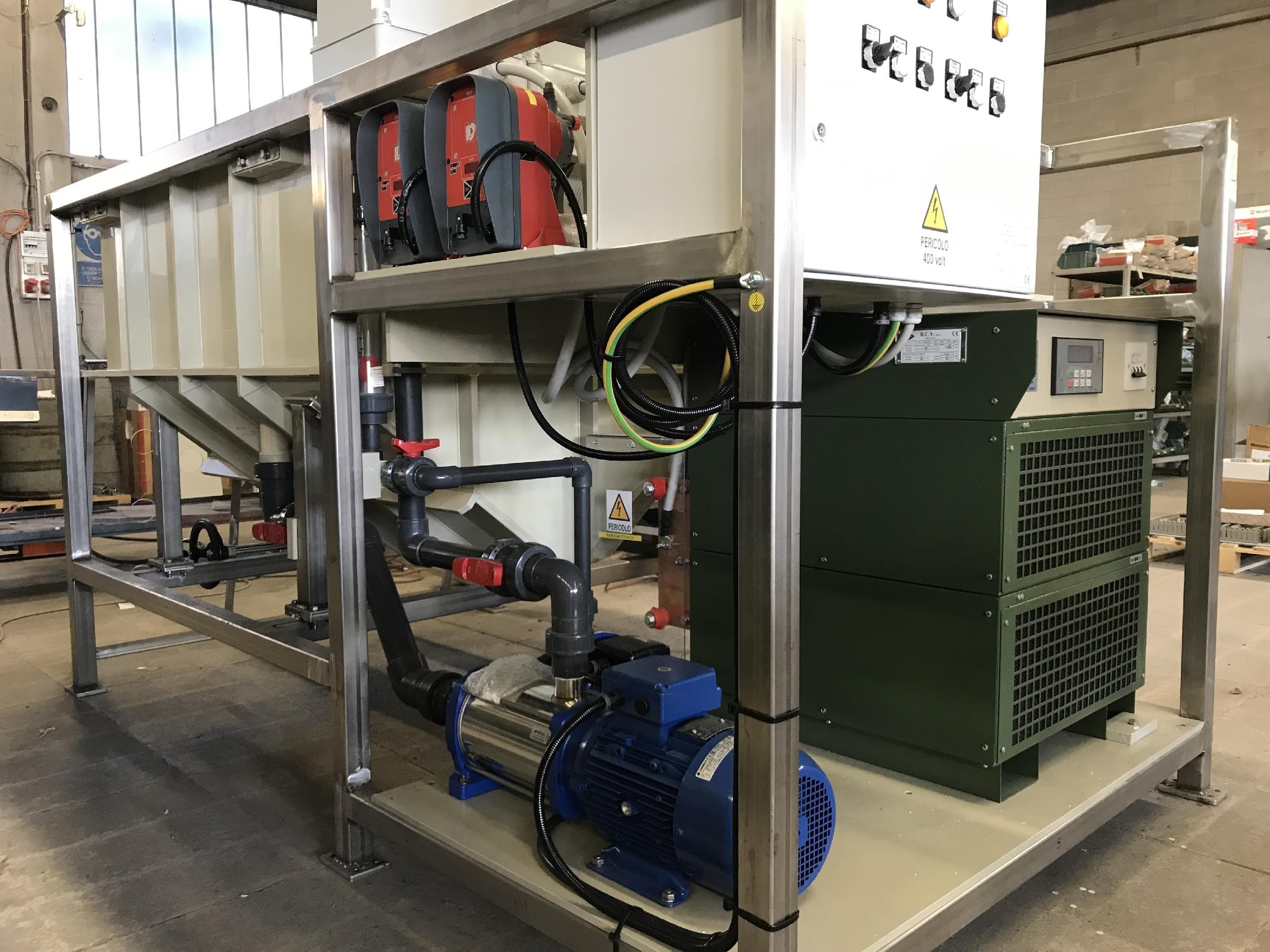 BASIC UNIT PLANT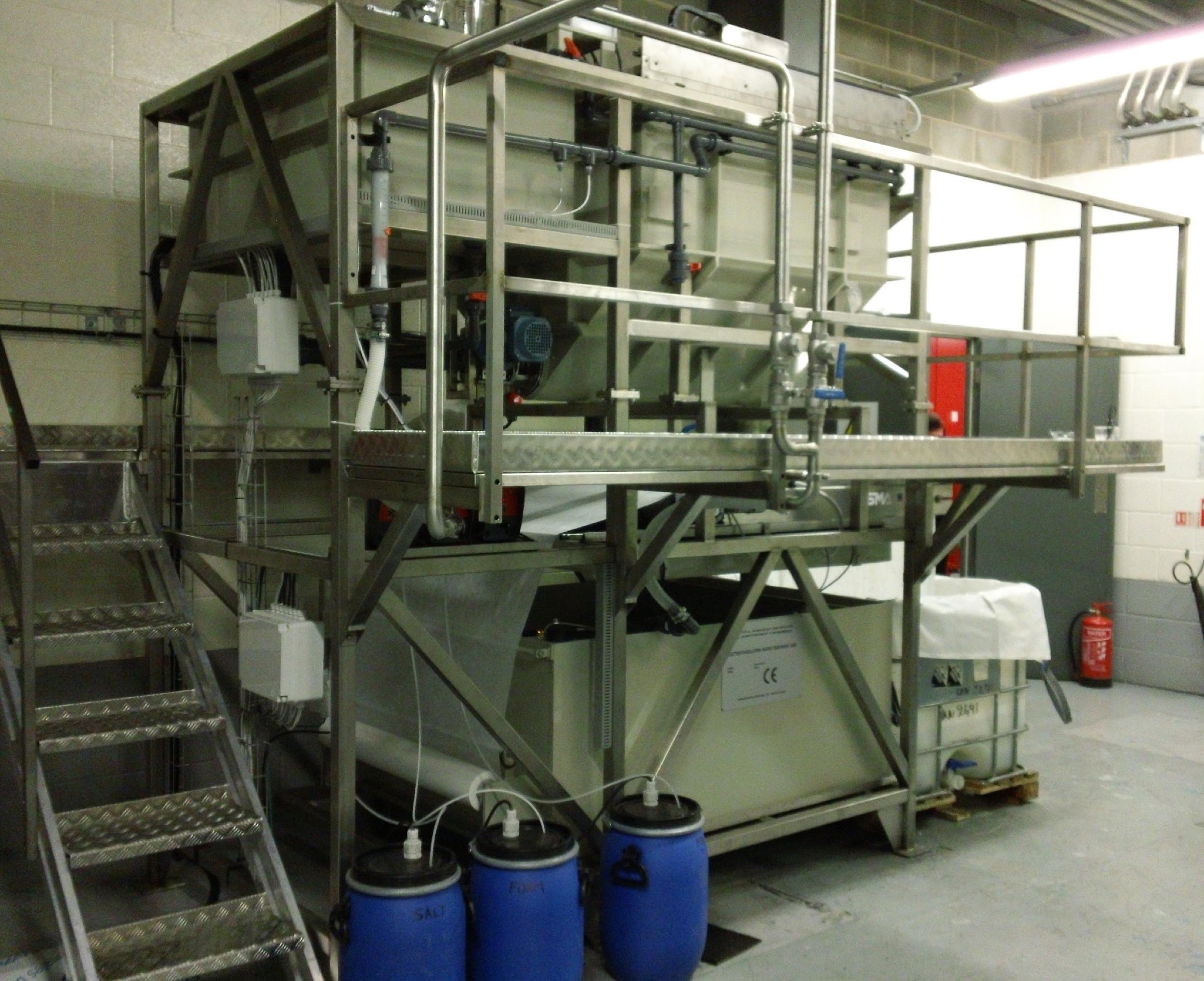 PILOT UNIT